Mid Year 2019 NEWSLETTER 
It would appear that I have a certain amount of egg on my face, so if anyone has a sponge?!!  I have waxed lyrical on many occasions and also included in "Let's do it Right', a highly recommended source of bird netting. It would appear that the business and the chap that owns it has disappeared. He was a fairly old bloke, so his present whereabouts is the subject of some conjecture.  We are in the process of exploring alternatives, but are not in a position to recommend anyone as yet. If anyone needs to know our progress, please enquire via the "info" website.
Under the heading of "It's an ill wind that blows no good", exploration associated with the above paragraph has prompted us to explore the 'China Situation'. It seems there may be possibilities, not only for net, but other such things as pipe and fittings, habitat material etc to be obtainable at significant savings. The big questions of course are product quality, seller accountability and availability of recourse – watch this space.
And on the subject of China versus local, the "AquaVerde" habitat, demonstrated two meetings ago to NQCFA members is finally ready. Colin and Ursula received their first production run of injected moulded habitat and are currently working out how to best put them together. So far, they are pretty pleased with the results and it looks like a cheap and quick "off the shelf" habitat solution has finally been realised!
Despite the encouraging rise in the number of people seriously considering starting a redclaw farm, our industry's development is frustratingly slow. Even though we have produced a guide to ease the way through the tedious approval procedures, it is still a complex and frustrating exercise and is no doubt daunting to a prospective farmer. We are endeavouring to address this issue, but don't hold your breath. It would seem that once you get though it and are a licensed producer, the ongoing requirements are relatively benign. Maybe it is a test to prove you are fair dinkum? The good news is that Cherax Park farm in SQ is undergoing a major rework and expansion under the new owners. The same people are planning a similar project in Townsville.
Survival Project: After getting the hurry from AgriFutures to get the final draft report in by end of February, we still haven't heard back so we can finalise the report and release it.
At the last NQCFA meeting, the five suggested research projects that were distributed to Branches were discussed and a vote was held to determine which two projects the members considered the priority. The clear favourite was the tracking project – determining redclaw's behavioural traits and preferences in the pond – followed by further investigation of the virus that was found to cause mortalities in stressed redclaw.  It is considered that the Tracking Project could be largely managed by us farmers with technical assistance. Colin took time off from his Norway holidays to drop in on the manufacturer of the tracking equipment. He came away impressed.  They have kindly offered to provide some equipment to trial to see first, if we can first get meaningful data from earth ponds before we purchase any equipment.
DAFF have engaged a consultant to evaluate if Fisheries (Aquaculture and Wild caught) could benefit from a peak body to representing their interests to government and the media. This body would be akin to the Farmers' Federation.
Colin met with the consultant last week to discuss the issue. DAFF have indicated they are willing to foot the bill for an indeterminate time while the organisation finds its feet. We once had a place in QAIF, (which was disbanded when government funding was cut during the Campbell Newman era), many of you will recall Graham Dalton (the EO) from whom we got valuable assistance. Anyone who has thoughts on this subject, please voice them.
John Stevenson
DECEMBER 2018 NEWSLETTER
On the 15th of October Agrifutures (previously RIRDC) took the unprecedented step of inviting industries which they considered "emerging" to submit an Expression of Interest regarding projects for research funding.  This certainly put the cat among the pigeons as it involved carefully preparing an eighteen page submission on the five projects considered most beneficial, plus a justification to Agrifutures that our industry has the potential to warrant their support, all in a relatively short time.
A small team of NQ farmers was tasked to do this work and the submission was completed by the closing date of 14th November. Successful applicants will be notified on 23rd December – some Christmas present!!! – and in the new year detailed project descriptions and funding applications will have to be submitted, with projects scheduled to commence in June.  This is a once in a lifetime opportunity, but will mean a lot of work to get it all together.
On the habitat front, all avenues of ways to reduce the price of 65mm draincoil have been exhausted. The result is that the cheapest way of buying it is direct from Vinidex by the full semi load (enough for 20 ponds). It works out at half the cost of buying by the roll from the local irrigation supplier, but entails a significant initial outlay. There is another habitat design in the works – maybe more on that next newsletter.
The long awaited sequel to "Getting Started" – "Farming Redclaw – Let's do it Right" was launched at the last NQ meeting, along with all the traditional trimmings of champagne and hors d'oeuvres. Copies are available via the QCFA website.
There have been whispers that redclaw is being claimed to be an "invasive species". This means an animal that will invade the natural habitat of other animals and take over, to the detriment or demise of that species. While redclaw can be found in small numbers in a wide area outside what is termed its 'natural range', it is not at all invasive. It does not cannibalise or actively compete for existence with the naturally existing animals. Long term advocates of redclaw farming, Dr James Furse and Dr. Clive Jones have teamed up to produce a paper study investigating the invasive potential of redclaw. Their finding is that while widely trans-located, they are not invasive. They have recommended a field study to further put these claims to rest. Would anyone with any experience of populations of redclaw outside their natural range please contact Colin Valverde at 4091 2020.
Research on S3J husbandry by JCU is ongoing and steady progress is being made.
It rained in NQ this week!!!! 200 mm for the week – we have had 75 mm from 1 April to 30 November. Grandfather of redclaw farming has never had an empty pond in 30 years and had 4 empty before the rain.
Wishing you all the compliments of the season and a prosperous New Year.
John Stevenson.
Farming Redclaw – Let's do it Right!
A sequel to the well-received book "Redclaw Farming – Getting Started" is out now!  Titled "Farming Redclaw – Let's do it Right!",  this book carries on from where 'Getting Started' finished. It contains up to date information on the status and future of the industry as well as detailed and illustrated account  of the latest farming best practice, gleaned from interviews with experienced and successful farmers as well as the author's own 20 years' experience.
This book does not repeat the information in "Getting Started" which should be read before the "Let's do it Right" edition. Anyone interested in purchasing either or both of these books can do so by requesting an order form via the QCFA email address – info@queenslandredclaw.com
QCFA NEWSLETTER– Mid year 2018
After many years of putting effort into raising the profile of our industry, things are starting to happen:
The entire board of Agrifutures (formally RIRDC) have visited Aquaverde Redclaw in a fact finding mission to decide our position on their priority  list.
A serious overseas investor has visited NQ with a consultant looking to buy land to develop a major (500 pond) Redclaw farm.                                               –
One enterprising farmer has won an award for his promotion and presentation of Redclaw.                                                                                                             –
There has been an overall marked increase in genuine people considering joining the industry .
Last newsletter I lamented the lack of interest from new farmers, considering the advances the industry has made in the last years. Someone (upstairs??) must have heard me, because three new farmers have started building farms in NQ and in SQ, farms that are for sale have attracted heaps of interest as well as a couple of new ones starting. Existing Bundaberry farms are putting in more ponds. Things are looking up!
Still the sales enquiries keep flooding in, not only the massive demand for export, but very useful sized requests for Redclaw from Australian potential customers. One new SQ restaurant owner even named his business "Louisana Redclaw"! – fortunately some SQ farms have banded together to supply him and saved us a bit of face. It still beggars belief that there is not Queensland entrepreneurs falling over themselves to take advantage of the opportunities available in redclaw farming while the only interest in major farms is from overseas enterprises.
While on holiday last year I had the pleasure of talking to a cattle property manager from Daley River in the NT. He drove 500k to talk to me about Redclaw! The property he manages is an amalgamation of five properties and has 50 full time employees! They are very interested in building a major farm and he has been tasked with establishing a pilot operation to judge its feasibility.
Production Return figures from DAFF make interesting and encouraging reading. In the two years from the 2014/2015 report until the 2016/2017 report there has been a 55% increase in pondage area in spite of no new farms being established. In the same period, production has risen 44%, resulting in a slight fall in tonnes per hectare. I see this being a result of the considerable number of new ponds not yet coming into full production. The 2017/18 figures should reflect production per hectare improvement as a result of our recent farming practices.
The habitat consultancy project ended on a sort of a low note. In spite of an intense investigation the consultant could not come up with a habitat that satisfied all the criteria and still be made for a reasonable price. This is not entirely a negative result because it tells us that there is not a solution out there that we were missing in our ignorance of what materials and methods are available. It is a problem that still needs solving and we need to chip away at it. My next step is to discuss with draincoil manufacturers the advantages of a special run of draincoil made from recycled poly in quantity, that the Association could purchase and resell to farmers. Watch this space!
Farmers from Bundaberg district and SQ are changing to the feed developed by the Feed and Nutrition Project and in spite of it being early days, are reporting improved water quality and a perceived increase in growth rate. Unfortunately there has been a setback caused by the transport company being out of commission for three months and alternate transport being a bit more expensive. Negotiations are in progress to attempt getting the feed manufactured under license in SQ. Interesting to note that the juvenile feed with an extra 2% protein is only 50 cents a 25kg bag dearer!!!
Yes, well, the new book is still running behind time! However I recently interviewed several successful farmers across the state to ensure that the information in the book is not one man's (me) opinion, so progress is being made.
That's all from me this time. The following is a report from NQCFA President Colin Valverde
John Stevenson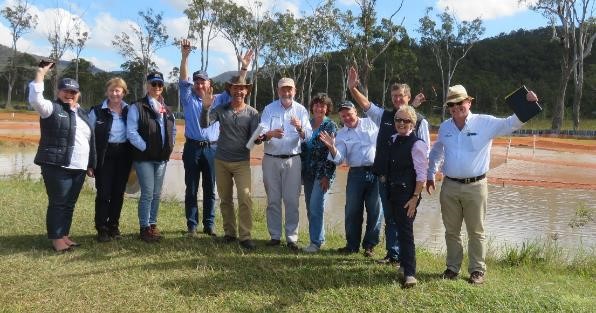 We hosted the board of AgriFutures (former RIRDC) to promote redclaw and explain its potential to them. They have been a great supporter of the redclaw industry in the past and so it was great to give them an opportunity to see how their money has been spent.  It was the first time they had seen (and eaten) redclaw and I believe they came away impressed.  It was very encouraging that they understood the potential and the difficulties our industry face and so will continue to support us into the future.
Research updates
Not much to report on since the last report; however regarding the problem of Handling Stress Mortalities some interesting trials were run by Leigh Owen's group at JCU stressing redclaw to monitor their physiological response to the stressor.
As expected, for 1 week after the stress event virial counts dramatically increased and if the animal survived after 1 week the counts returned to normal.
Some therapeutic trial were also conducted to minimise the increase in viral counts after the stress even. These trials showed some degree of improvement and we are currently considering an additive to the feed that strengthen the redclaw's immune system to cope with the virus.
Damian Rigg (PhD student) will continue running trials at JCU Cairns on craylings with the aim of acquiring information we can use in the possible implementation of a nursery phase.
Colin Valverde
QCFA NEWSLETTER – Mid year 2017
For a start I would to finish off a few things from last Newsletter:
QFF pointed out that as we were not members of their organisation, they were reluctant to continue publishing my bulletins in their "10 Things". This sparked consideration as to whether we should join. To cut a long story short, considering our limited financial position and the fact that the lowest rung on the ladder was $1000 per year (only available for the first 2 years then increasing to $5000) plus there being some doubt about the benefits, it was decided not advisable to go ahead.
The proposed workshops were a flop. In spite of the extensive promotional effort, the end result was 3 people at the NQ workshop (1 serious) and one applicant from SQ who I was not prepared to drive 3000km (at my own expense) to talk to. I just don't get this and I will return to it later.
The sequel to "Getting Started", due for publication about now, stalled due to the author building houses and moving into them and out of others. Target is now mid 2018.
OK – moving on to the present:
Research levy collected from feed and S3J sales is a consistent flow since last newsletter – the great majority from NQ farmers. Together with book sales, it is running at approximately $5000 per year and building our research fund to a significant amount.  It is important that everyone supports our research effort as all farmers benefit.
There is still a steady stream of responses to our website, resulting in book sales being constant at one a week and overseas sales enquiries about the same. The latest being a chap exporting to China who asked me to put him in contact with a "small to medium farmer, as I only need a few tonnes per shipment"!!
With these sales opportunities going begging, the constant interest in the industry and the proven successes of our existing farmers it beggars me why people aren't flooding into the redclaw industry. There is a trickle of major farm enquiries – most from overseas, but a couple from Queensland enterprises. Thought is being given to a guide for the development of a major (50-100 ha water) farm. But should it be the final chapter of this next book or a book of its own?? And who has the vision to write it!!!??
We were invited to submit an article to Aquafeed International magazine, a mag published in England and distributed world wide to some 40,000 subscribers in the aquaculture industry. The resulting article is posted in the 'Contacts – Information Files' section of our website. This was an excellent opportunity to showcase our industry and raise its profile across the globe. They have asked for a follow up article later in the year.
Speaking of raising our profile, NQCFA President Colin Valverde was invited to speak at the annual ABARES conference in Canberra a couple of months ago. His presentation "Potential for productivity gains: innovative new technology for hatchery raised juvenile redclaw crayfish" was well received and sparked several personal approaches from members of the audience. The focus was on simply presenting the redclaw industry to a large audience of agricultural leaders, economists and government at the Canberra Convention Centre. The presentation generated a lot of interest and introduced redclaw aquaculture to an influential audience who would have probably known very little about redclaw.
At the last QCFA AGM it was agreed to contribute $2000 towards a feasibility study being organised by NQ farmer Joe Maurer into the development of a commercial habitat. A consultant firm specialising in the design of such quaint and unusual objects was engaged and given a list of guidelines. The resulting proposed designs were many and interesting, but none completely ticked all the boxes. However the project reignited interest in this age old problem and caused people to look at it in a new light. Some new designs of habitat are being trialled and costed based on varying sizes of drain coil – watch this space!
The annual QCFA AGM is running late due to other pressures on the delegates, but the latest best guess is October, probably somewhere in the bottom (polite) end of the State.
John Stevenson – President QCFA.
Report from NQCFA President, Colin Valverde:
Updates on Research Projects:
To examine factors for post-hatchery craylings PhD research student, Damian Rigg, has established an experimental facility at JCU Cairns consisting of a dedicated laboratory on-campus. Progress has been slower than expected as the facility has had several iterations to optimise it for the intended research. The small size and behaviour of the craylings caused problems with the facility requiring adjustment to manage the craylings effectively. Hopefully we can report some interesting progress this time next year.
Also, two on-farm pond based trials at Ironbark Redclaw were scheduled for the last grow-out season, but only one was completed successfully.
Preliminary results of grow-out trials of craylings over a 6 week period gave an average survival of over 70% with an average weight of around 2 grams after 6 weeks. To our surprise the results confirmed that feeding craylings within the hatchery showed no growth difference to craylings that had not been fed prior to stocking.
NQCFA has subsequently supported JCU financially and in-kind to secure an internal JCU grant to continue the identification and study of the impacts of the two newly named viruses. JCU can now confirm that they have successfully mapped the RNA of 2 viruses new to science.  At this stage it appears that these viruses are endemic to all redclaw populations. Testing will soon be underway to determine what effect they have on redclaw growth, survival. It looks very likely that this is exactly the agent/factor that we have been looking for to explain our stress related mortalities in broodstock and handled/transported redclaw!
Masters student Jenifer Brand's completed her dissertation detailing all the research done to date regarding temnocephalids.
We now have positive proof that the newly discovered Temnocephlid worm do in fact predate on crayfish eggs, adversely affecting egg survival as suspected by a hatchery operator.  The stomach contents of the worms were found to contain the same lipids as redclaw eggs and many of the eggs examined showed significant damage caused by the Temnocephalid. However, it's been difficult to quantify exactly how many eggs were compromised and what effect this has on juvenile recruitment.
March 2017 News Bulletin
2017 REDCLAW WORKSHOPS
Based on the response to the proposed Redclaw Workshop Roadshow, two workshops will be held:
NQ -25th March – Ross and Wendy Martin's 'Rocky Creek Redclaw' farm and hatchery, 419 Marnane Rd., Tolga, Atherton Tableland. Ph. 0427 688 171
CQ – 22nd April – Peter and Shelley Beldan's 'Rocky Waterholes Redclaw', 36 Old Rocky Waterholes Road,  (off Peak Downs Highway) Walkerston. via Mackay. Ph. 0417 634 457
Both workshops will commence at 8am   –   Please download registration form here:
2017 W'shops rego form
January 2017 News Bulletin
A Queensland wide Redclaw Workshops Roadshow for prospective farmers is planned for early this year. The North Queensland workshop is planned for 25th March and workshops in areas south of Proserpine for 22nd  and 29th April and 6th May. The actual venues will be decided according the number and location of responders.
The workshop will be an all day affair at a cost of $88.00 and $55.00 for additional persons attending from the same family. Lunch and smokos are included.
The content of the workshop will be aimed at people interested in getting into redclaw farming, explaining the basics of site selection, farm construction etc., and include a report of the results of our ongoing research program. There will be ample opportunity to have all your questions answered.
People interested in attending the workshop please send expressions of interest to info@queenslandredclaw.org  by 28 February. Include your name, number of persons attending, your location and contact details. Anyone without internet can phone 0418 732 546.
An application form will be sent to you by the 8th March including payment details and the location of your workshop and confirming the date and time. Return of the application form and payment is required by 20th March
It is not known when another such event will be able to be held, so take this opportunity!
October 2016 News Bulletin
At the NQCFA October meeting, a report was presented containing the final results of the feed implementation trials. The meeting voted to adopt the 'Standard' formulation on the basis of performance and cost until such time that more advanced knowledge was available. The report is available at Contacts – Information Files on this website.
The QCFA has been active in the area of raising the profile of the Redclaw Industry. Recent articles in the QFF '10 Things to Know' initiative led to a segment on the ABC's Rural Hour and a great article in 'Rural News'. We have been invited to speak at the upcoming ABARE Conference in the 'Marketing Innovations for Emerging Industries' segment.
Interest in the industry is on the rise. The largest farm in the state has just been sold. The new owners are investors planning a serious expansion and have advertised for a manager. Another major farm could well be changing hands soon.  Overseas interests are talking seriously about a 100 tonnes per year farm for direct export. Sales enquiries from overseas are going begging – some up to 50 tonnes a year.
If anyone hears of live crayfish of any breed being imported to Australia, please do let us know. It is illegal without a permit and there is a real threat of introducing Crayfish Plague to this country which has the potential to wipe out crayfish populations.
May 2016 News Bulletin
QCFA AGM: The annual AGM of the Queensland Crayfish Farmers Association was held at the farm of the SQCFA president just north of Gympie on the 19th March. It was attended by a full complement of delegates from each branch.
The President reported that interest in our industry is high, as evidenced by the number of enquiries being received from our website. Sales of our book "Redclaw Farming – Getting Started" are continuing at the rate of about one per week. The industry is in a healthy state with farmers working together and encouraging new entrants to the industry. Several prospective farmers are in the process of assembling information and reorganising their lives, while a couple have advanced to the stage of developing farms.
Many subjects associated with the industry's pathway to the future were discussed and future progress planned. Presentations on the progress of current research projects were explained.
JSCNA: We have received the report of the findings of the Joint Senate Committee for Northern Australia discussed in the last bulletin. Their recommendations include FRDC to establish a 'Northern Node'; Building roads in the Kimberly; establishing a pest and disease facility in NQ.  It seems, if acted upon, none will have a real impact on our industry short term, but at least we have been presented with an opportunity to put our case forward.
FEED PROJECT: The project has been completed and the result implemented. The new feed is made to a formulae that takes best advantage of the latest knowledge available regarding the optimum diet required by Redclaw. Advances in production methods have made it possible to produce a pellet that has an acceptable degree of water stability. It is available from Advanced Rural in Tolga and will be available from a SQ mill shortly.
NQCFA MEETING: The meeting was held at Joe Maurer's farm on 7th May. Two new prospective farmers were welcomed. The meeting witnessed a practical demonstration of the physical properties of the new feed and the economic advantages were explained. The meeting decided to pursue our Research Program with a Redclaw Tracking project.
January 2016 News Bulletin
RESEARCH NEWS
The five year Feeding and Nutrition Project is finished and the final report sent to RIRDC on 30 December 2015. We are now working with feed mills in Tolga and Gympie to work out the practical details of implementing the supply of the improved feed to the farmers. Making our own feed bags to make the feed easily identifiable was just one step in this process. Plans are in the making for a series of meetings with all branch members to explain the benefits to be gained from the new feed. These should happen in March-April and all farmers will be welcome. Details will be published here as well as disseminated through the QCFA branches.
The Survival Project, it is fair to say, is uncovering more questions than answers as yet, but that is the nature of research. There are a lot of people putting a lot of effort into this project, as its success will benefit the industry on many fronts. Fortunately RIRDC understand this and their backing is invaluable. At this stage, JCU people are working through new information as it is discovered.
The combined results of our Research Program are proving a positive for the industry. Our effort to develop an improved strain of Redclaw, feed them a better diet and keep them in better health is certainly a tremendous step forward
INDUSTRY DEVELOPMENT NEWS
Our "Operation Kickstart" initiated in 2013 is starting to bear fruit. Interest in our book "Redclaw Farming – Getting Started" is continuing and feedback from people who have purchased it have been nothing but positive. There are several prospective farmers going through the process of buying land and getting approvals which will translate into production increases in a year or two. All branches report an increase in membership. Demand for our product is continuing to be strong.
We have managed to attract the attention of the JSCNA (Joint Select Committee for Northern Australia) by preparing written submissions and appearing before the Committee at a hearing to answer their questions. Our feeling is that results from this will not occur overnight, however our name is up there with others seeking a slice of the $5B pie. Time will tell.
Our hatcheries are working hard in collaboration with researchers to lift productivity in an effort to meet rising demand for S3J. The farmers who have converted to 'S3J Farming' report success with production results and appreciate the simplicity the farming method has allowed.
WORKSHOPS ROUNDUP – 1st June 2014

Well, the workshops are done and dusted and I must say I am pleased to be home after 4 weeks on the road! Twenty six keen prospective redclaw farmers attended and went away carrying a positive frame of mind.
To the person (who will remain unnamed) who thought a shovel was necessary to collect "berried" females, thankyou for being the highlight of the trip!
For those people who missed the workshops the newly published book, "Redclaw Farming – Getting Started" upon which the workshops were based is available, along with some other literature, by contacting our 'info' address.
The industry will now push on with its next objective of developing a feasibility study for attracting major players into redclaw farming and also planning the implementation of the results of the current Feeding and Nutrition project due for completion next year.

Conference Summary
The Redclaw Revolution Conference held in Cairns on the 25th October, 2013, was a spectacular success.  The event was well attended with a total of 65 attendees, 30 of whom were prospective new redclaw farmers. Attendees travelled from as far away as the Northern Territory, New Zealand, and South East Asia.